10 points to make your figurative drawings sell
You have been drawing for a while and your artwork is of a standard, people have told you so.
But you still find yourself at a loss why you are not selling any work. What are you doing wrong? 
First of all don't give up, a few changes here and there could make all the difference. I am self- taught and I don't claim to have all the answers, but all the drawings shown below have sold and I would like to share my thoughts.
The drawings featured were priced between 295 Euros to 1995 Euros. It is quite a step up from the 50 Euros I asked for when I first started to offer pencil drawings on Ebay many years ago. If I remember correctly, I only ever sold one of those, or is my mind being kind to me. But let's get to our first point...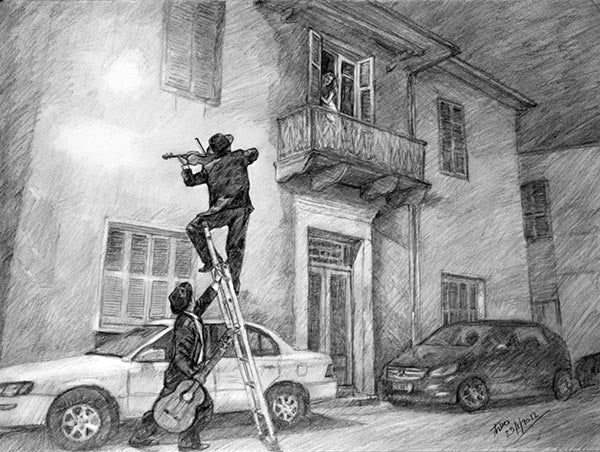 1. Choose Your Medium
Examine the medium that you are using carefully. You need to be working in a medium that captures and expresses your intent. A medium that allows you to create quality pictures, so much so that a buyer falls in love with the piece enough, and wishes to acquire it, and enjoys the artwork and treasures it for a long time to come.
I used to work in a range of pencils, 2B – 6B. I loved the control I had and what I produced, but unfortunately I failed to sell in sufficient numbers so I switched to watercolour. First I had to teach myself and I learnt to paint in a more painterly style which proved to be by far more popular.
I read about an artist who switched from portraiture oil paintings to using colour pencils. She focused on animal portraits, especially horses. It was a less popular medium and a drastic step, but she found great success in her new niche.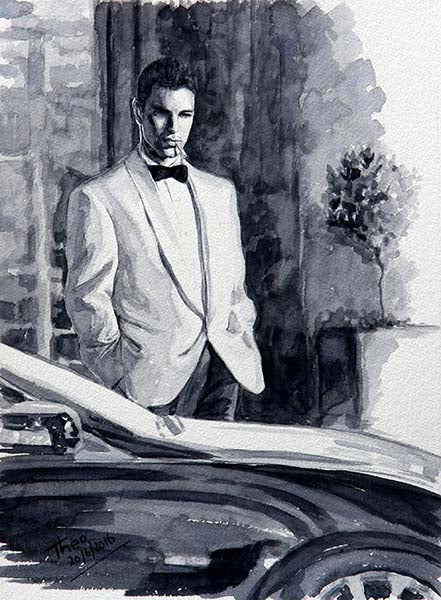 2. Find Your Niche
Your artwork needs to be distinct. It pays to have a recognizable style and your own identity that is uniquely memorable to you. You need to find a niche, preferably small that has a lot of potential customers. The artist that focused on equine portraiture in colour pencils chose a tight niche but it is a niche with a large amount of horse lovers as potential buyers.
A carefully chosen niche gives you a chance to stand out with your work and a chance for your art to show up in Google searches as an expert in your chosen field.
My Art Noir style, fortunately for me, involves trademarks of hats, trench coats and the like which add to the drama and atmosphere of the work. Using elements like shadows, wind and rain can help create a mood that is instantly recognizable.
Imagine your work to be like a stage where you have control and can arrange the lighting to your advantage. Extreme contrasts read very well and accent the scene.
3. Include a range of values from dark to light
The content of the image has to read from a distance. The contrast of the different shapes and objects in your image should be clearly defined. Compose your picture with large bold shapes that stand out.
The prominent character below, cropped tightly in the foreground with his dark suit, takes a third of the composition and stands out.
You must use a range of values as if you are working in black and white, some very darks, mid values and a few highlights to make your picture sing.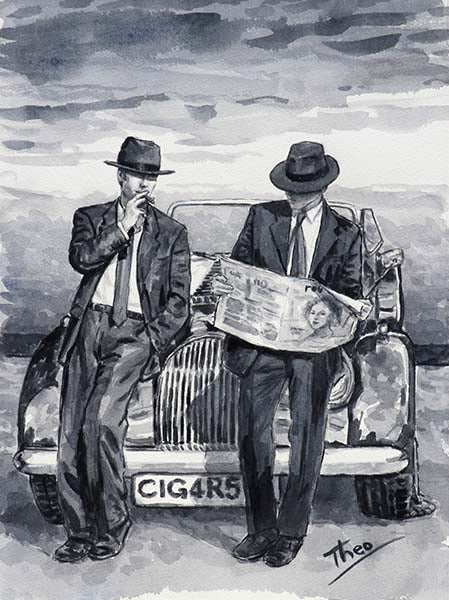 4. Create Mystery
If you are to include figures in your work it can be advantageous to keep the characters mysterious as the potential buyer must on some level identify with the characters. Deep down within us we are all heroes.
Make it easy for the viewer to identify with the characters. Unless your work is a character study, such as the facial features of an old man for example, avoid
such detail. You can use props like hats, umbrellas, hair, or a simple side or back view of a person, to shroud your characters in mystery. The idea is to keep the identity of the protagonist in your painting ambiguous so the viewer can easily imagine himself as the character in your artwork and become the hero in your scene.
I knew an artist once who used himself as a model for his work and didn't mind telling his customer base, but it back fired. They no longer wanted to hang his images in their homes as there was no mystery.
Not unlike a magician, who performs a brilliant piece of magic, and then revealing it to a sigh of, Oh is that it! Anyone can do that!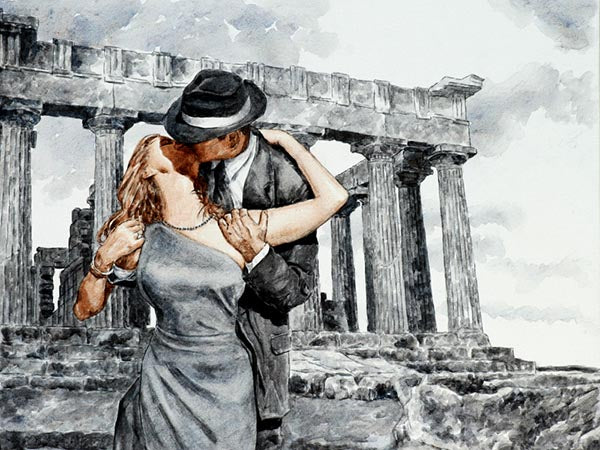 5. Trigger an emotional response
People are moved to buy original artwork when they connect with the work emotionally. This usually happens when a memory is triggered through the artwork, linked to a buyer's past experience.
For the painting of the Acropolis in Greece, with the couple kissing on the steps, the customer revealed that he had proposed to his fiancée at these very steps and was therefore moved to make the purchase.
I have several pictures of men dancing. They were created to create a trigger to remind you of how much we love dancing, especially the Zorbas Dance, the hit movie and music from Mikis Theodorakis.
In contrast the wet rainy backdrop of the following drawing was intended to trigger the memories of Gene Kelly in Dancing In The Rain.
What moves people? The ideas are endless. Childhood memories of a beach scene, favourite restaurants, elements of nostalgic photos such as classic cars, vintage dresses, hairstyles, but also tender moments between the characters, a father holding the hand of his child, an embrace, a kiss, a hearty laugh, will elicit an emotional response. The key element to remember is that the scene has to be relatable to the customer to trigger that emotional response.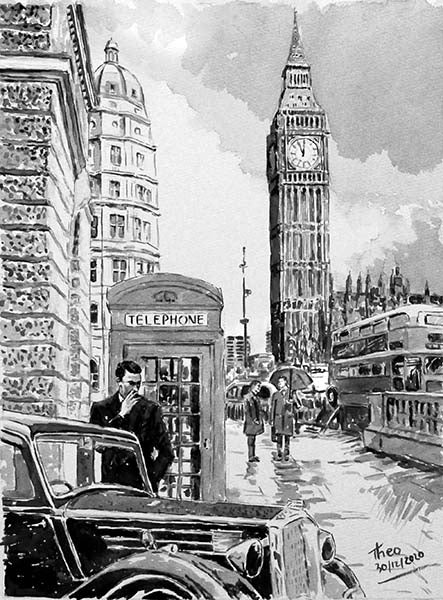 6. Paint What You Know
It pays to choose subject matters that you are familiar with. Understanding and knowing your subject intimately will filter through and create more realism and in turn create a more convincing painting, one that will sell.
A few decades ago I had a small chain of video stores. I was staring at thousands of videos every day and consequently this influenced my cinematic style. It is difficult to make things up and portray them realistically, the setting, the people, the clothing. All the folds must be accurate so inevitably you must use photographic reference.
I grew up in London and as a child walked the streets many times. It is no wonder that many of my paintings feature London, for example Big Ben, the iconic busses and taxis. Choosing landmarks adds to the realism and authenticity of the scene. There is always an audience out there to connect with these familiar subjects.
7. Using the calendar of the year
I have had great success tying in artwork with the seasons of the calendar. For example to release a piece of artwork running up to New Year's Eve with a clock as Big Ben in the background, may connect with a buyer to make a purchase.

The scene of a driver sitting in his classic car with a road sign pointing to the year ahead was another New Year's Eve painting that sold.
Valentine's Day is very suitable as a subject for a painting design. Couples are often on the hunt for an unusal gift for each other. There is of course Easter and Christmas, e.g. a couple kissing under a mistletoe could work well.
8. Take inspiration from other artists
I am inspired by the American realist painter Edward Hopper. He in turn was inspired by John Sloan.
I also take inspiration from J. C. Leyendecker who in turn inspired Norman Rockwell.
They say nothing in art is ever original, and Picasso is widely quoted as having said, ''good artists borrow, great artists steal.''
My work is often compared to the Scottish painter Jack Vettriano. He paints in a style not dissimilar to mine, and tapping into his audience generated sales.

On occasion a price differentiation can help. I sold four sketches to a customer who is a fan of the artist Fabian Perez, but fortunately for me can't afford him. I didn't mind at all.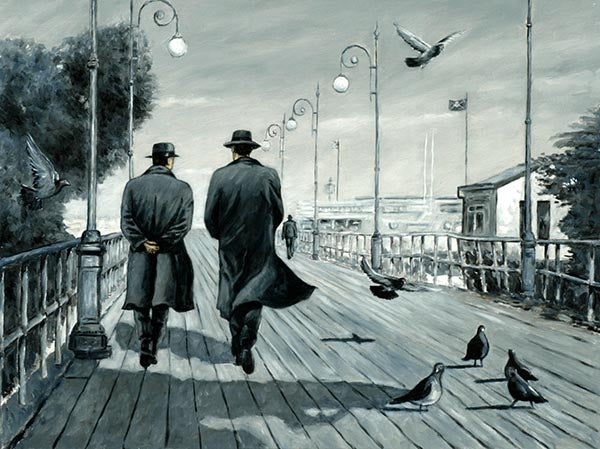 9. Telling A Story
It can be very useful if your style includes story telling techniques in the composition.
Having the characters doing something, for example two men walking along a pier wearing hats, their trench coats blowing in the wind, add a sense of drama and mystery that is very appealing.
When a femme fatale wears a hat, silk gloves, and her face is hidden by her sun glasses, you immediately ask yourself what is her story. In this case, she suspects her husband is cheating on her and she's tailing him. Well, according to our customers that is.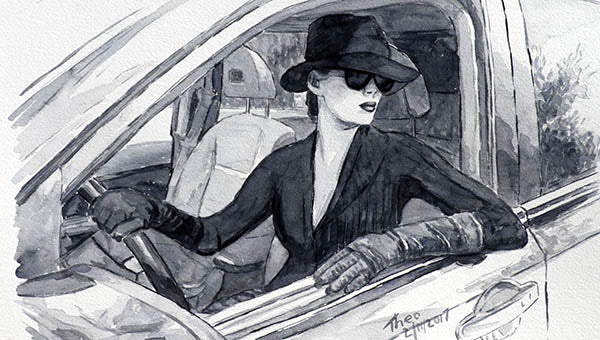 People often ask me how detailed should the work be. I think it depends on your style as long as it tells a story adequately.
I remember as a young man reading Marvel comics by the artist Jack Kirby. On occasion his pencil work could be very detailed and the busy inker would just not bother to include some figures to save time!
10. Charge a fair and respectable price for your work
In other words it is important not to under price your hard work. I know when you haven't sold all year it is very tempting to slash your prices and go out at a 50% sale, but I strongly advice against this. It cheapens your artwork and it will harm your reputation as well as possibly losing some self-respect on the way.
Don't be afraid to charge a respectable price for your work.
In general people don't make a buying decision solely on price.Of course they have a budget, and if your
work is outside their budget then this buyer is not for you.
As an artist your work is unique as opposed to selling a pair of trainers. A buyer can compare like for like and would choose the cheapest offer on a pair of branded trainers, provided of course the vendor proves to be trustworthy.
Your artwork is unique and not comparable to anything else. A customer who starts off by asking about your price is generally not a genuine buyer. Their question is often driven by curiosity with no real intention to go ahead with a purchase whatever the price.
And Finally...
Getting people to like a picture and ultimately purchase it is difficult enough as most people tend to sit on the fence. So consider these steps, adding these ideas that may tilt the balance for the buyer to make that big step of a purchase. Some of these suggestions and points may be obvious, but it is so easy to get caught up and be distracted and forget that sometimes the simplest ideas are still the best.
I wish you good luck and hope this helps in some way to get your artwork out there and sold.