10% Discount for YOU with "BLOG10"
We offer 10% Discount for our loyal blog-post-readers...
Jack Vettriano, a household name
Who is Jack Vettriano?
If you know who Jack Hoggan is, you are probably already a
great fan of the Scottish painter Jack Vettriano.
Vettriano became a household name when his 1992 painting, The Singing Butler
became the best selling image in Britain. On the 21st of April 2004
the original canvas of The Singing Butler sold for £744,800 at auction, not bad
for a painting that had previously been rejected by the Royal Academy summer
exhibition.
It has been an extraordinary career for the apprentice mining engineer from
Scotland, and if you are still wondering about Jack Hoggan, Jack took on his
mother's maiden name of Vettriano in 1987.
Painters like Jack Vettriano
Jack Vettriano works in a unique and distinct style, a neo realistic style, in the sense that he is painting people in believable settings. Other outstanding artists working in a similar figurative genre are, Brent Lynch, Fabian Perez, Peregrine Heathcote, Hamish Blakely and John Meyer just to name a few.
What connects all of these painters is the strong story telling aspect of their artwork, a narrative that unfolds in the viewers mind the longer they gaze at a painting.

I have never met Jack Vettriano, but I admire him as a painter. He creates beautiful and iconic paintings and you can see why he became a household name.

Customers in my art studio often say to me, ''you know, you paint just like Jack Vettriano.''
It is easy to understand why one would think there is a similarity to our work. Jack Vettriano and I are probably similar in age. I suspect we share similar tastes in music, as one of his paintings is titled after a Leonard Cohen song. I would guess he is also a cinema fan, in particular the works of Alfred Hitchcock and the Film Noir genre. And with regards to painterly influences, I suspect he is very familiar with the works of Edward Hopper too.
Paintings by Theo Michael Jack Vettriano style
Working Jack Vettriano Style
In people's eyes, our art work is very similar, and on occasion I have been asked to work in Jack Vettriano's style. As money talks, I am not ashamed to admit I  accepted commissions. On two occasions, the paintings were of a boudoir nature, featuring the buyers in the painting....
Another request was very specific, to create a painting close to Jack Vettriano's Singing Butler. 
Below are some initial watercolour sketches for this project. I favoured to include the two violinists, but that idea was rejected. Further below you can see the final oil painting from this commission.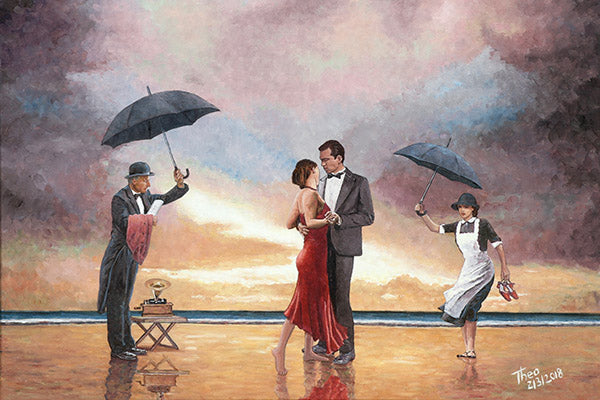 Homage To The Singing Butler
The final painting  is now used as an umbrella design, produced by the German company Von Lilienfeld. Take a look at our gift shop for this umbrella range and other art inspired gift ideas.
Gift Ideas (starting at 15€)
Two oil paintings featuring The Art Cafe 1900 in Larnaca
On closer inspection you will notice my paintings often feature more detailed background and architecture. Jack more often than not uses one point perspective. I frequently use two point perspective and more oblique angles, perhaps a little bit more like Edward Hopper. 
I also tend to include my local environment which differs greatly from Jack Vettriano's. The paintings above, Nightlife and  Cafe At Night feature the interior and exterior of a local bar and restaurant in Cyprus, the Art Cafe 1900 in Larnaca. 
But if the old adage 'the customer is always right' holds water, and I am to be known as the Greek Jack Vettriano, who am I to disagree.